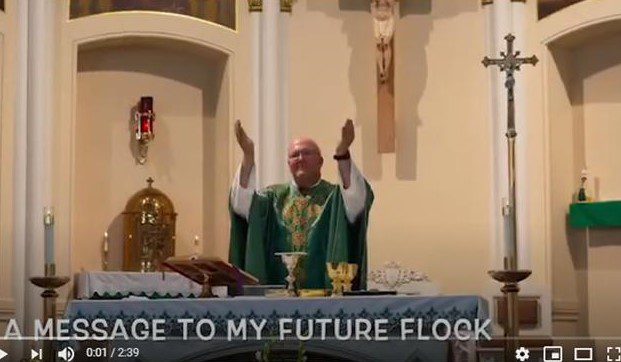 View Fr. Troy's message of introduction on YouTube!
A Message to My Future Flock
Greetings to you, my future flock, members of St. Mary Parish in Oskaloosa and St. Mary Parish in Pella. Several weeks ago, as priest assignment changes were made, you learned of my coming as your new Pastor this coming July 1st. I feel very privileged to succeed Fr. John Spiegel who was my very first pastor in my first year ordained at the parishes of St. Patrick and St. Mary of the Visitation in Ottumwa. I learned a great deal from him, in particular, the importance of pastoral care and being there for parishioners in times of illness, the loss of a loved one, and other times of need.
As Fr. John mentioned in his previous introductory remarks, I grew up in Ottumwa, not far from the parishes I will soon be serving. I remember many a trip to Des Moines as a kid to go shopping or to Adventureland during summer vacation. I recall more than one stop at Dairy Queen in Oskaloosa and at Jaarsma Bakery in Pella for one of their famous "Dutch Letters."
As far as my hobbies and interest go, I enjoy many things outdoors whether walking, bicycling, or hiking. I share a hobby with Fr. John, that of the game of golf. I will be the first to say that, whereas birdies may be more numerous on Fr. John's scorecard, you will see many more bogies scored during my rounds of golf! I also enjoy reading and writing, cooking and entertaining, and, when time permits, playing the trumpet.
Within my priestly ministry, my passions are preaching, celebrating the Sacraments, and the ministry of healing, particularly inner healing or healing of the heart. Even in these uncertain times, I very much look forward to getting to know you and the opportunity to serve as your priest. Know that each of you are in my daily prayers as you prepare to take leave of your pastor, Fr. John. Although we are living in difficult times, there is one thing for certain; Jesus is risen from the dead! Alleluia! Alleluia!
Fr. Troy