Take the Lead in Your Family's Faith
Resources from the Catholic Tradition that show us where we need to go and how to help others get there in our daily lives.
Join us Sunday, Aug. 26 at 2pm in the Parish Center.
The afternoon will start at 2pm and include two talks by Bo Bonner. His talks will focus on how one can incorporate the faith and Catholic Tradition into their family's daily life. We will then have Mass at 5pm with dinner following at the Parish Center. Babysitting will be available at My Father's House Fellowship Center from 2-4:45pm.
Guest Speaker: Bo Bonner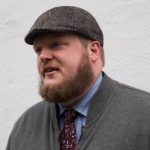 Bo Bonner is the Director of Campus Ministry and Assistant Professor at Mercy College of Health Sciences in Des Moines, IA. He has taught at Newman, Wichita State, Tulsa, and Oklahoma State Universities as well. He converted to Catholicism in the midst of Protestant Seminary at Duke Divinity School, coming into the Church at Easter, 2006. He and his wife Robyn have been married well over a decade, and they have four children: Elias, Stella, Antonia, and Finnian. Bo was born on the feast of St. Blaise, the patron of throats, and he has not stopped talking ever since.
This event is free of charge but we do ask you to RSVP for babysitting and dinner so we can plan accordingly. You can RSVP by clicking here.